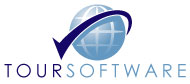 | | |
| --- | --- |
| | Charter Tracker is built for keeping track of short charters, or transportation movements. |
In Charter Tracker, the Reservation Entry screen tracks trips that will generally be completed in a single day. There is ample room to enter pickup, dropoff, and route instructions which are printed on a descriptive sheet for each driver. In another part of the program, multiple drivers and vehicles can be assigned to each trip. A daily manifest may be printed which shows all trip information for the day. Check out the reservation entry screen.
Features
Saves you time when billing by allowing you to print invoices off the data you have already entered.

Print out the entire day's schedule on a single 'Daily Trip' master sheet.

Frequent customers may be selected from a drop-down list on the reservation entry screen.

An easy to use screen displays the day's tours, and lets you assign multiple buses and drivers to tours. You may also add tour specific notes, and mark tours as 'cancelled'

Reduces loss of payments and revenue by organizing your records. A unique 'reservation' number is given for each trip. This allows easy lookup for customer changes or accounting questions.

Print daily sales verification reports by tour date or date of entry. Print cancellation reports.

Database maintenance functions and ability to archive and view old records.

Built-in function to export invoice information to Quickbooks accounting software. Export functions can be modified to work with most accounting systems.

Print out trip information sheets for drivers, listing pickup-points, dropoff points, and route instructions.

Print out a daily trip schedule, or charter log for dispatch listing the entire day's trips in pickup time order.

Multi-user version available.

New accident tracking section allows you to store and print out information from accidents including insurance details,drivers involved, witnesses and injuries.

Ability to store old resevation records in another database, and view those archived records.

CUSTOMIZE IT. We can modify virtually any part of the program to fit your needs. Need another report? A field added to the screen to track rain coat sizes or meals or meal types? Call us for a quote.