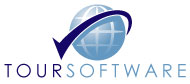 Ground Tour Tracker is a built-for-speed reservation entry system for the small ground tour operator. This includes shuttle services, bus companies, and sight-seeing operations.
You have a schedule that lists bookings for the day right on your reservation entry screen. For help with dispatching, you can highlight any tour and quickly see a passenger list. This kind of operation generally uses buses, vans, or shuttles. Charters also are handled easily. Billing time is orgranized and dramatically reduced. Check out the reservation entry screen. It is designed to work in a fast-paced environment.
Your dispatcher can have full control with our new dispatch screen. All reservations can be viewed here. Unassigned passengers may be assigned or re-assigned to a route or bus with the click of a mouse. Click here to view the DISPATCH screen.
Features
Increase cash flow by quickly and easily printing out clear tour billing breakdowns (invoices) to include with invoices for Agencies.

Bus pickup lists may be printed by Tour or Combo for drivers. Combos are groups of related tours that you can define. Specific combo orders can be determined by you.

Daily schedule of tours, including current amount booked, and capacity, is displayed as you take the reservation. Warning is given operator if they overbook.

Quick passenger listings are available straight from the reservation entry screen for times when your dispatchers are adding passengers when the van is en-route.

An easy to use screen displays the day's tours, and lets you assign buses and drivers to tours. You may also add tour specific notes, and mark tours as 'cancelled'

Reduces loss of payments and revenue by organizing your records. A unique 'reservation' number is given for each reservation. This allows for easy lookup if there are differences between your records and your agency's.

Print daily sales verification reports by tour date or date of entry. Print cancellation reports.

Context sensitive online help screens.Two levels of security allow for access to information by accounting that is not allowed to reservationists

Target your best Agencies and Agents. Print sales reports by Agency, Agent, Tour, Category, Employee, or Hotel.

Allows for complex billing arrangements where different agencies can be billed at up to 10 different commission rates for the various tours.

Archive resevation records into another database, and view those archived records.