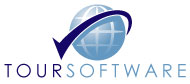 Tour Tracker Sample Reports
Tour Tracker's reports provide you with many different ways to view your information and save time and money. Cut your billing processing time in half or less. Print up to the minute sales reports that let you know if one of your agencies has stopped selling you. A few of the reports that are available are shown below.
These sample reports are saved in Microsoft Word 6.0/95 format, and you will need Word to be able to view them. By clicking on the links below, you can either view them or save them to disk. If you select 'view', the Microsoft Word program will open and display the report. If you select 'save to disk' the report will be saved with the '.doc' filename extension, and it may be opened by MS Word any time.
Billing Statement Save time here! Once all your reservation information is in the database, printing out billing statements can be done in an instant. This report can be printed several different ways, including one that allows you to enter in an 'amount collected' value, which is then summarized for the agency. This report prints for a user-specified date range, and details the tours completed for a particular agency. You may print this for an individual agency, or for all agencies at a time. It can be included with an invoice (or be modified to be used as one) and the vouchers, to send to the agency to describe the amount owed.
Bus Pickup Report Prints out a report of customers to pick up, based on a list of pickups you define. This pickup schedule prints for a single day and shows: pickup, name of customer, agency who sent them, number of pax, hotel or location, room number, and tour they will be taking.
Reservation Confirmation Confirmation form for customers. Includes most reservation details, and contact information in case they need to reach you.
Passenger Sales by Individual Agent! Who exactly at your top selling agency is sending people to you? You may be getting 300 passengers a week from a particular agency, but are 150 of those people coming from a single agent? Are there some agents that used to send you 50 passengers a day...and now aren't sending you any? You can now find this out with the click of a button! This report lists tours accross the top of the page from left to right. Agents are listed in rows down the left side of the page. Sales are shown in the grid, with totals by agent and tour at each end.
Passenger Sales by Agency This report tells you which agency is sending you the most passengers, and will show if someone all of a sudden stops sending them. It lists tour abbreviations (or short names) accross the top of the page from left to right. Agencies are listed in rows down the left side of the page. Pax sales are shown in the grid, with totals by agency and tour at each end.
Daily Sales Verification Report Even if you lose a voucher, the details here should allow you to track it down, and still get paid. This report is used to verify reservations taken for a particular date. Includes most reservation information.