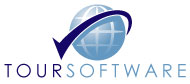 Tour Software Technical Support
Our goal is the satisfaction of our clients. To this end, we have several technical support options available. Please first check our FAQs page:
Technical support via the internet using the email address below. Support via phone is available at the following number: (541) 436-4346. We also are working on an Online Knowledgebase, and it should include solutions to most problems.
For more information, please contact Tour Software at the number listed above, or email us at the address below.